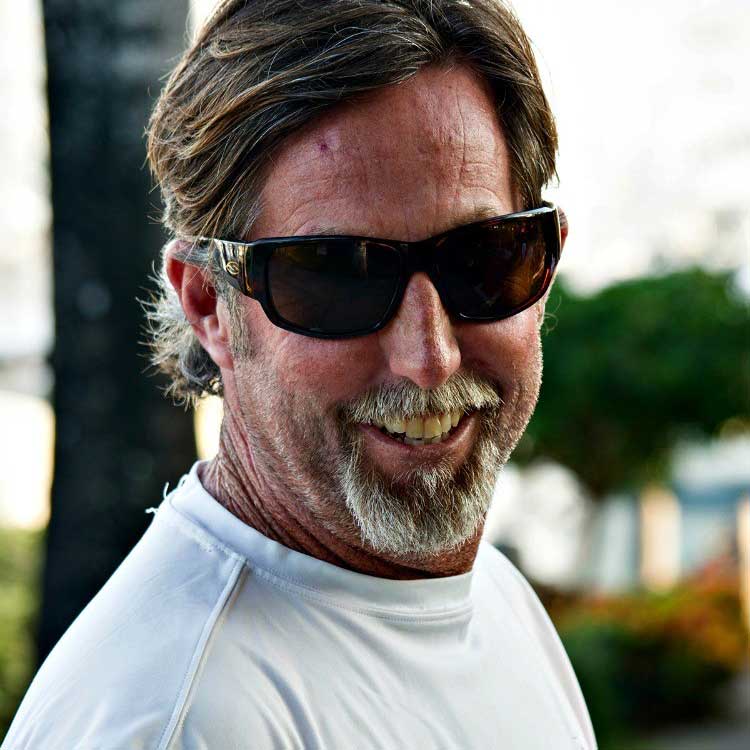 Tommy Lynsky is a world-class captain with 20 tournament championships from Costa Rica, Mexico, Bermuda, the Virgin Islands, Bahamas, Caymans, Oregon Inlet, and Virginia Beach. An additional 18 podium finishes round out his international tournament tours.
Captain Tommy was born in Miami, Florida where he started fishing. By age 13, he caught his first Blue Marlin and he was hooked for life. At age 18 he went to work on private boats traveling throughout the Caribbean and Central America.
Captain Tommy moved to Costa Rica in 1999 and continued to captain boats across the world through 2017. After almost 20 years of traveling to tournaments, in 2018 he came back to private chartering in Golfito, Costa Rica and spend his time with his wife & two boys.
Highlights of his billfish tournament record while touring the world is as follows:
2003
Bermuda Billfish Classic, Largest Blue Marlin
Bermuda Release Cup, Top Boat, First Place
Boy Scout Tournament, St. Thomas, U.S.V.I., Top Boat, Top Angler, First Place
2004
Boy Scout Tournament, St. Thomas, U.S.V.I., Top Boat, First Place
2010
Pirates Cove Billfish Tournament, Oregon Inlet, NC, Top Boat, First Place
2011
Cayman Islands Billfish Tournament, Top Boat, First Place
2012
Boy Scout Tournament, St. Thomas, U.S.V.I., Top Boat, Third Place
2013
Los Suenos, Costa Rica, Billfish Tournament, Second Place
Cayman Islands International Billfish Tournament, First Place
Cap Cana, Dominican Republic, First Place
Bermuda Big Game Tournament, Second Place
Burmuda Billfish Blast, Second Place
BVI Blue Marlin Tournament, Third Place
2014
Custom Shootout, Third Place
Bermuda Big Game, Second Place
Bermuda Seahorse, First Place Release
Pirates Cove, First Place
Virginia Beach, First Place
2015
Los Suenos, Costa Rica, Leg 3, Second Place
Bermuda Big Game, Second Place
Pirates Cove, Second Place
Los Cabos, Second Place Release
Cayman Islands International Billfish, First Place
Cap Cana, Dominican Republic, Second Place
2016
Cayman Islands International Billfish, First Place
BBC Boat Harbor, First Place
BBC Marsh Harbor, First Place
BBC Treasure Cay, Second Place
BBC Championship, First Place
The Shootout, First Place
Abaco Blue Marlin, Second Place
Bermuda Billfish Blast, Third Place
Pirates Cove, First Place
2017
Custom V. Production Shootout, First Place Daily
Abaco Beach Marlin Tournament, Bahamas, First Place
Big Rock Tournament, Moorehead City, NC, Second Place & Two Dailies
Bermuda Release Cup, Top Boat, First Place
Seahorse Anglers Club, Bermuda, Third Place, Second Place Release
Alice Kelly, Oregon Inlet, NC, Third Place
Masters, Los Suenos, Costa Rica, First Place, Top Boat, Top Captain