Welcome to beautiful
Quepos, Costa Rica
When you visit Costa Rica, you're sure to hear the phrase "pura vida" — pure life. For the inhabitants of this beautiful county, pura vida really is a way of life. It's about simplicity, relaxation, and joy. After all, why worry when you're in paradise?
Our team is here to help you embrace "pura vida" and enjoy every moment of your time in Costa Rica. We've learned a thing or two about how to get around, what to bring, and how to make the most of your Costa Rican experience — and we love sharing our knowledge with you! Read on for our best travel tips, and don't hesitate to get in touch if you have any other questions we can help with.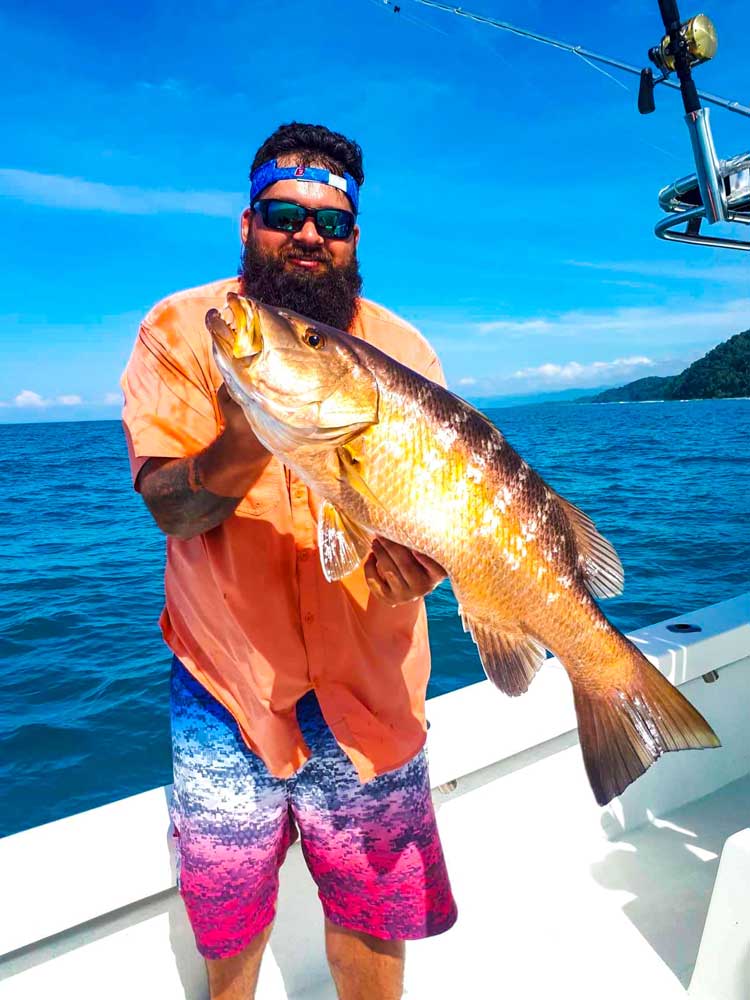 Moderate BYOB is acceptable. However, it's dangerous enough. Don't make us babysit to maintain safety on the boat.
We will provision with enough store-bought food for the trip. However, the "catch" often serves us well.
Regular fare includes:
Fresh yellowfin sashimi or served grilled/sauteed
Mahi-mahi ceviche
Flash-fried or sauteed calamari
We serve local fresh fruits and vegetables which are of enviable quality, and stocked beverages include plenty of bottled water, energy drinks, sodas, fruit juices, local beer, and our world-class Costa Rican coffee. If you have specific dietary restrictions please inform us prior to your trip.
Seasickness is rare in the calm Pacific; however if you are prone, bring and use Dramamine. If you prefer a Scopolamine patch, bring them along as is in the US, Scopolamine patches are not available over the counter in Costa Rica.
Bring 2 photocopies of the front page of your passport for Port Authority use.
We have GoPros! If you bring your own equipment, make sure to bring enough digital media or film; electronics are very expensive and film is unheard of.
Bringing your own cell phone: You need a device that supports GSM (1800 Mhz) to use your own phone in Costa Rica.
Contact your carrier prior to departure to make sure your plan supports international calling/data.
Getting a local cell phone: Purchasing a cell phone from a local carrier is a good option, especially if you're planning to receive calls. Low end devices are available at the San Jose International Airport for around $30.
Please note: If your data, photos or other necessary information is stored in the "cloud" you may not have access to it. Check your settings and adjust as necessary.
​Costa Rica uses 110 volt, 60 cycle electricity, and 2- or 3-pronged flat type outlets, the same as in the US. If you are visiting from outside of the US, you may need an adapter.
Private WiFi and cable is available at the dock and Casa.
Bring all the medications you need. As well bring (or store in your phone) legible photos of your prescription bottles — we have a pharmacy in the event of loss. (Note that if your photos are stored in the "cloud" you may not have access to them.)
Golfito has excellent medical and dental services and a hospital should the need arise. We have standard first aid on board and the crew is CPR-trained. USCG medivac is available.
You are at latitude 8 in Golfito or 7 at the Banko. The weather is hot, powerfully sunny, and prone to afternoon downpours.
The following gear is recommended:
Shorts/swimsuits
Long sleeve, cool dry shirts
Deck shoes (loafer style is best)
Good quality UV sunglasses
Wide brim hat or baseball cap
Lightweight rain gear (we have extra)
Fishing gloves. Lightweight leather driving gloves or fingerless weight lifting gloves work. If your hands get sunburned, you're done.
Bring SPF30+ sunscreen, insect repellent, and your customary toiletries. (We have extra sunscreen, bath soap, shampoo, and toothpaste should you forget, and we provide your towels and bed linens onboard and at the Casa.)
Call your card issuer prior to traveling and give them the dates you will be out of the country. ATMs are few and far-between; do not rely on the use of an ATM.
Visa and MasterCard credit and debit cards are regularly accepted; Amex, Discover, Diners Club are not, though there are a few exceptions. However, this is the third world and sometimes the CC systems are out of commission. Bring extra cash in new-style hundreds and standard/new-style 20's. American 50's are "suspect" in CR and not regularly accepted.
Exchanging dollars for colones is generally unnecessary. Dollars are accepted by most vendors; your change is often issued in colones so you will have pocket change. Rule of thumb: ₡600 CR Colones = $1 USD (i.e., 12,000 Colones = $10)